Sign Up
The Collective Producing.
Supporting of your talent in exchange for sharing the fruits of your creativity!
Sign Up

Inaugural Balls: The Trumps' First Dance (Reporting)
from Katie Rogers Sat Jan 21, 2017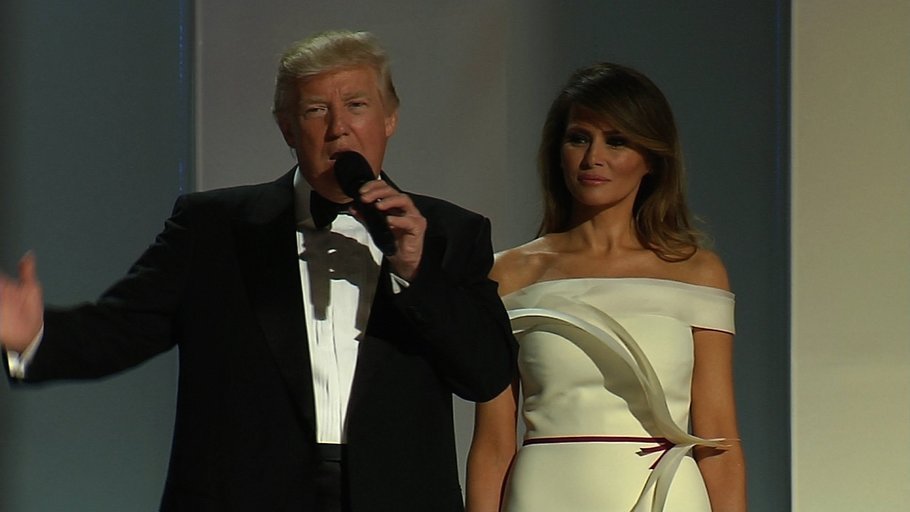 President Donald Trump Speech at Inaugural Ball, Washington (1.20.17)
DONALD TRUMP SPEECHES & RALLIES
WASHINGTON — President Trump and his wife, Melania, made stops at three official inaugural balls on Friday night, after an Inauguration Day full of celebrations — and protests.
The divisiveness of the campaign, however, was an afterthought inside the galas. Two of the balls, the Freedom Ball and the Liberty Ball, were attended by supporters who donated to the inauguration or purchased tickets. They were held at the Walter E. Washington Convention Center.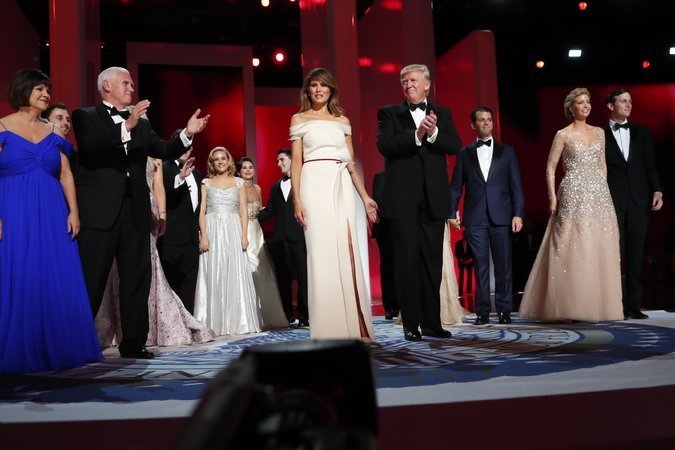 The president and first lady, with, at left, Vice President Mike Pence and his wife, Karen, and at right, Ivanka Trump and Jared Kushner
Doug Mills/The New York Times
The third ball was the hotter ticket: A Salute to Our Armed Services, at the National Building Museum, featured active duty and reserve military members, wounded veterans, emergency medical workers and Medal of Honor recipients.
Vice President Mike Pence and his wife, Karen, attended all three events.
We party-hopped to provide a look at the festivities. Answers to the big questions of the night: What did the Trumps choose as their first dance as president and first lady? ("My Way.") And what did Melania wear? (A collaboration between herself and Hervé Pierre.)
First things first: Who's performing?
6:05 p.m.: Mr. Trump and his inauguration team have had trouble locking in A-list celebrities for the festivities, and have made it a point to say they didn't want them to attend in the first place.
Performers include Sam Moore, one half of the '60s R&B and soul duo Sam & Dave, and The Piano Guys. Both acts performed at a welcome concert for Mr. Trump on Thursday. The armed services ball will feature a performance by the singer Tony Orlando and the Texas musician Josh Weathers.
If you thought getting a ticket was tough ...
6:55 p.m.: The idea of an inaugural ball might sound fun, but let's talk about how hard it is to actually get into these events. Guests have to walk several blocks through a labyrinth of security fences, road barriers and a human wall of police officers dressed in riot gear in front of the convention center. (Several women are cursing their decision to wear high heels.)
Empty city buses and garbage trucks are establishing a loose perimeter around the convention center. They are likely parked here to safeguard against bomb blasts.
At the end of the long lines, a set of metal detectors await.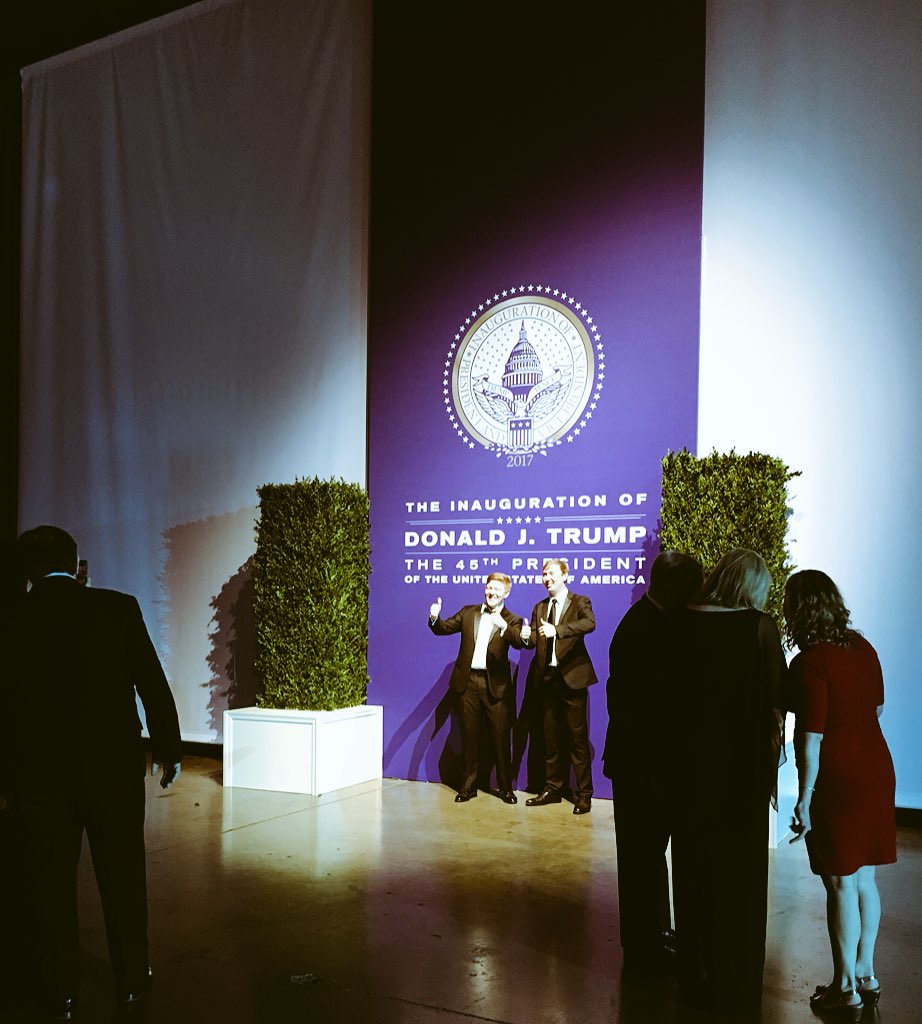 the Freedom Ball
Katie Rogers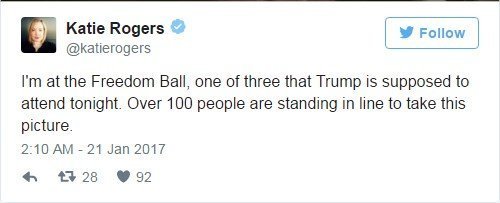 I'm at the Freedom Ball
@katierogers
It's hard to keep a festive mood with the sounds of helicopters flying low overhead and the sight of the occasional protester with signs that read "resist extermination," but these revelers are managing to do it somehow.
"Trump's going to be here, it's a great day, let's enjoy it," a woman said as she joined the line of people waiting to get into the Freedom Ball.
Freedom isn't free, and neither are the drinks
7:51 p.m.: Things are in full swing at the Freedom Ball, where the festivities were supposed to begin around 8 p.m. Attendees are enjoying a buffet of pasta and rolls.
After a $20 glass of champagne (cash bar), we're ready to mingle.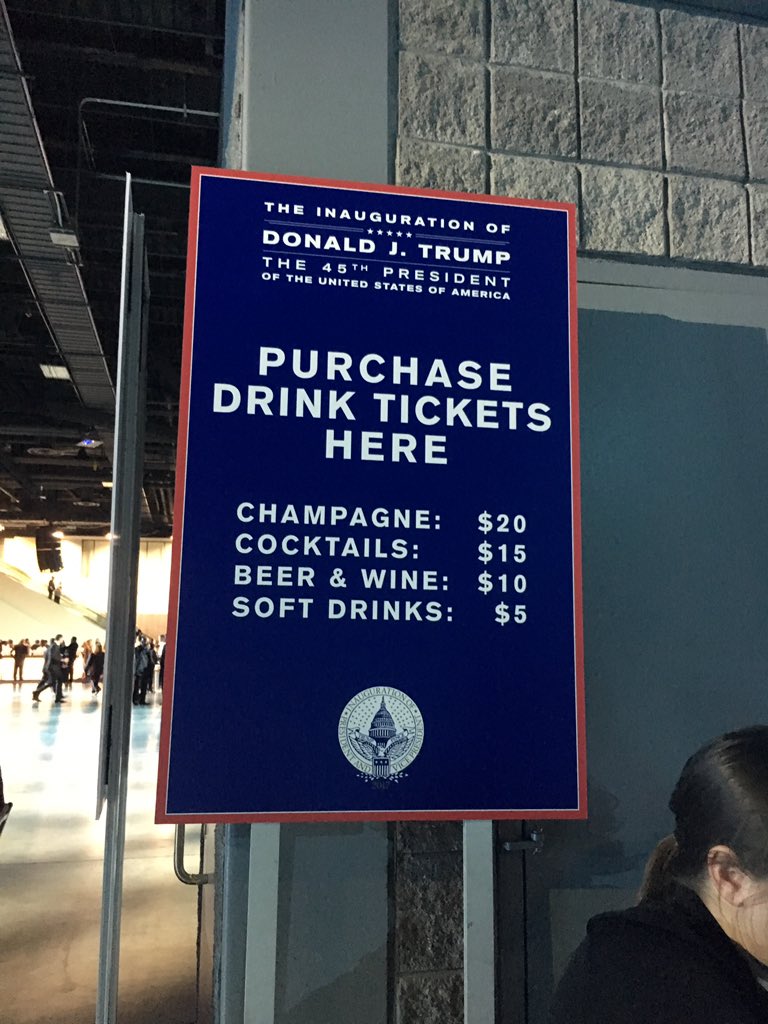 Listen
Katie Rogers

Listen
@katierogers
If there's one big fashion theme emerging, it's that these revelers enjoy their sequins. One ballgoer, 26-year-old Ashley Walukevich, chose a dress with silver sequins and embellishments down the sleeves after searching for a week for the right look. She posed with a friend, Lauren Hodge, who chose a dress made of black velvet and lace.
Sequins are BIG at this ball. Ashley Walukevick, left, chose sequined sleeves with nude mesh. Her dress search took a week. #freedomballpic.twitter.com/Y0lG0fmL35
— Katie Rogers (@katierogers) Jan. 21, 2017
Aside from trying to hail an Uber driver who got trapped by protesters, Ms. Walukevich said the protests around Washington haven't bothered her. "I wanted to come out to celebrate our country coming together," she said, "and to celebrate our new president."
Into the swing of things
8 p.m.: The concert at the Freedom Ball has started.
The singer Tim Rushlow, who performed as part of the Frontmen of Country at the "Make America Great Again" concert on Thursday, appeared with His Big Band to the convention center.
He opened the show by heralding a "landslide victory and an amazing time for our president." (Mr. Trump has also called his victory a landslide, despite losing the popular vote.)
The swing jazz group opened with Frank Sinatra's "That's Life," a melancholy hit about persevering though life's ups and downs.
As Sinatra said, "I've been a puppet, a pauper, a pirate, a poet, a pawn and a king."
Mr. Trump would disagree.
Dueling pianos
8:23 p.m.: With two balls in one building, and with guests at one ball separated from guests at the other, acts were performing both on stage and on large screens. At the Freedom Ball, The Piano Guys, introduced as "four musical dads from Utah," played covers of pop music songs, including Rachel Platten's "Fight Song." — which Hillary Clinton used as an anthem during the campaign.
While The Piano Guys played on stage, a squad of 18 Rockettes danced on screen (with the sound muted), dressed in gold-sequined outfits and glittery tights.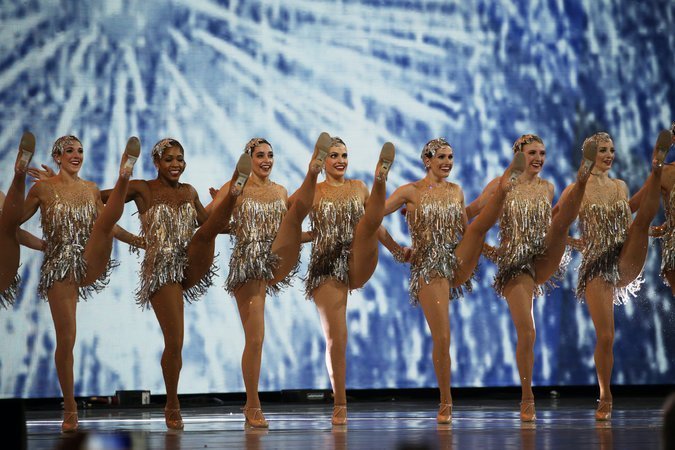 The Rockettes performing at the Liberty Ball on Friday evening.
Ruth Fremson/The New York Times
This company of women had been at the center of a media firestorm since December when the Madison Square Garden Co., the group that manages them, committed the dancers to perform at the inauguration, even though some members dissented.
At the ball, however, the women performed with their trademark precision. Their smiles, of course, were huge.
The people's parties
8:35 p.m.: Instead of focusing on A-list artists — which the inauguration committee struggled to book anyway — the entertainment here is centered on what might be called "classic American" music. In other words: lots of Frank Sinatra covers.
It also turns out the performers are alternating between the two stages at the convention center. It's a little disorienting, but the guests don't seem to mind.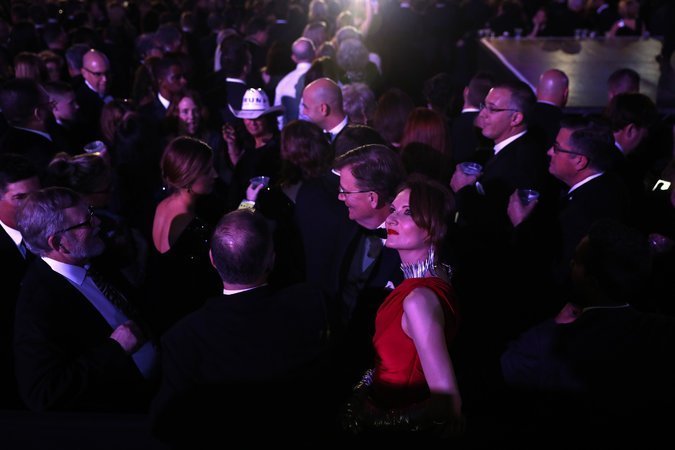 People waiting for President Trump and his wife, Melania, at the Freedom Ball on Friday.
Todd Heisler/The New York Times
The Rockettes are at the Freedom Ball now, in Uncle Sam outfits.
Despite the celebrity snafus, the Trump team wants to make one thing clear: The Freedom and Liberty balls are about the people. Tickets were $50 each, according to the Presidential Inaugural Committee, much lower than the cost of other balls happening around town this weekend.
The committee raised more than $100 million for the inauguration over all.
Where's the President?
9 p.m.: This ball shuts down in two hours and the president and vice president are still no-shows.
That didn't bother Trump supporters like Tye Hill, a Republican from Indiana, who stood in a plum-colored gown as she waited for the night's headliners to arrive.
"Right off the bat, when I heard Trump, I knew he spoke for me," she said. "He's conservative. He's promised jobs, he's promised immigration reform."
She added: "And I'm going to hold him to it."
Their first dance as first couple
9:36 p.m.: President and Mrs. Trump emerged at the Liberty Ball shortly after 9:30, and Mr. Trump sounded familiar themes from his postelection speeches when he addressed the crowd.
"They said we — and me — we didn't have a chance, but we knew we were going to win, and we won," the president said.
"Today we had a great day," he continued. "People that weren't so nice to me were saying that we did a really good job today. They hated to do it, but they did it."
Though it had appeared to begin raining just as Mr. Trump was sworn in at noon, he apparently did not notice. The rain held off until the dignitaries had moved inside, Mr. Trump said. "It was like God was looking down on us, I will tell you," he added.
Meanwhile, a crowd formed near video screens at the Freedom Ball to watch Mr. Trump dance with the new first lady, who wore an architectural off-the-shoulder white sheath with a high slit, a thin burgundy bow belt, and a silk organza wave curving from one dropped sleeve to the opposite hip, and then down the skirt. The video was muted as ballgoers watched the couple sway to a cover of "My Way" (Sinatra again!).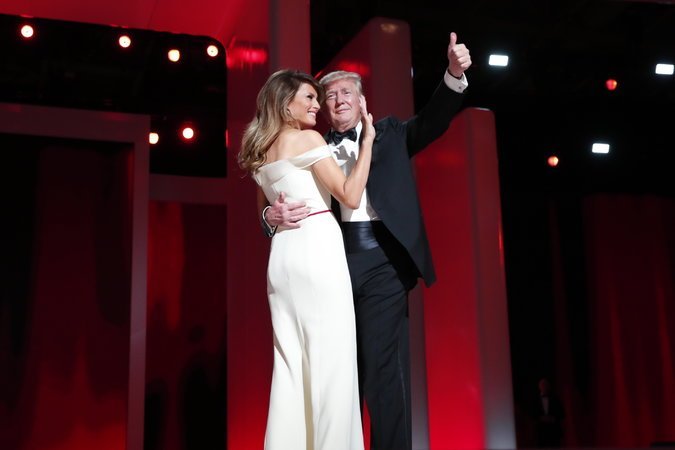 President Trump and his wife, Melania, danced for the first time after the inauguration to "My Way."
Credit Doug Mills/The New York Times
Despite dancing to a song about the bittersweet struggle and ultimate reward of individuality, this president apparently likes to double date. Vice President Mike Pence and his wife, Karen, were invited to the stage.
And then, of course, the whole Trump clan joined in. The scene was a flurry of nude-toned dresses and very slow swaying. Mr. Trump's daughter Ivanka wore a champagne-colored fairy princess gown covered in sparkles by Carolina Herrera.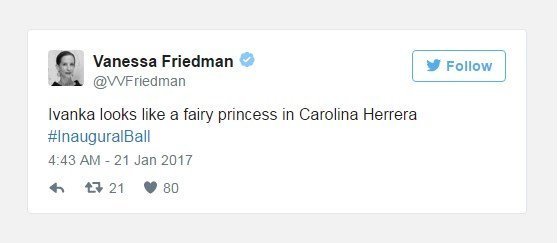 Vanessa Friedman
@VVFriedman
At the end, the families bowed and beamed, signaling the end of the show. For this ball, at least.
A dress makes waves
10:08 p.m.: Our fashion critic, Vanessa Friedman, reports that Mrs. Trump's dress is a collaboration between herself and Hervé Pierre, a former chief designer for Carolina Herrera who also worked at Oscar de la Renta.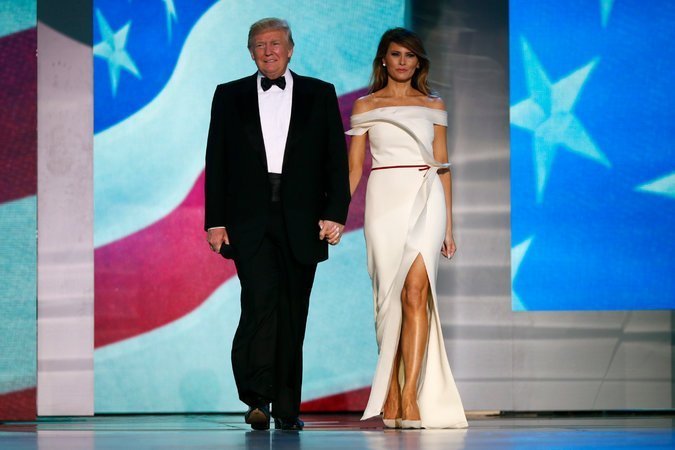 President Trump and his wife, Melania, making their entrance at the Freedom Ball.
Doug Mills/The New York Times
The first lady's choice to wear a powder-blue Ralph Lauren to the swearing-in ceremony both nodded to the American establishment and referenced history. Her look was reminiscent of Jacqueline Kennedy, a first lady whose clothing choices became synonymous with classic American style.
Having it 'My Way'
10:19 p.m.: Mr. Trump arrived at the Freedom Ball and greeted the crowd with "Howdy folks" and a few more well-worn remarks. His supporters, it seems, think he should keep his personal Twitter account.
"Should I keep the Twitter going or not?" the president asked. The crowd said yes. "The enemies keep saying, 'Oh, that's terrible,'" Mr. Trump said, "but it's a way of bypassing dishonest media, right?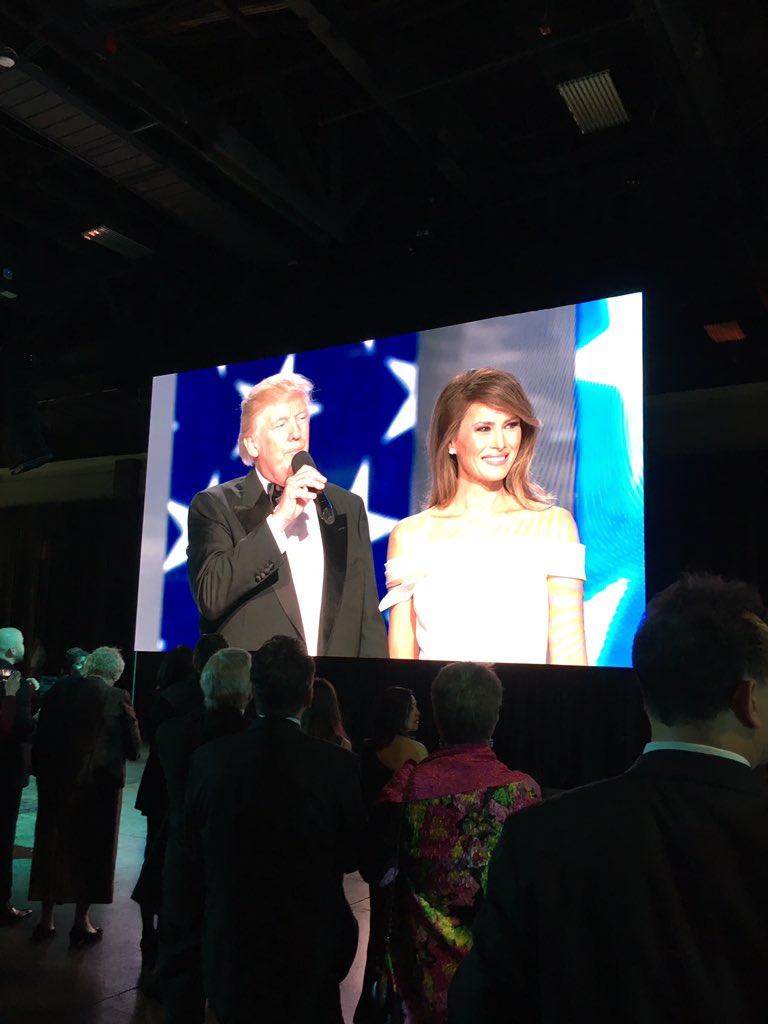 Trump pulls
Katie Rogers

Trump pulls
@katierogers
If the opening dance at the Freedom Ball looked a lot like what happened at the Liberty Ball, that's because it was about exactly the same. After what seemed like a momentary audio glitch, "My Way" was back on the sound system.
The Trumps were once again joined by the Pences and — all together now! — the rest of the Trump clan.
Now it's time to head to the National Building Museum, where Mr. Trump and the gang will attend the Armed Services Ball.
On to the final ball
10:54 p.m.: After a leisurely walk though several blocks of security barricades and a screening by a few friendly Secret Service agents and police officers, we have arrived to catch the tail end of the Salute to Our Armed Services Ball, where Mr. Trump is expected to speak.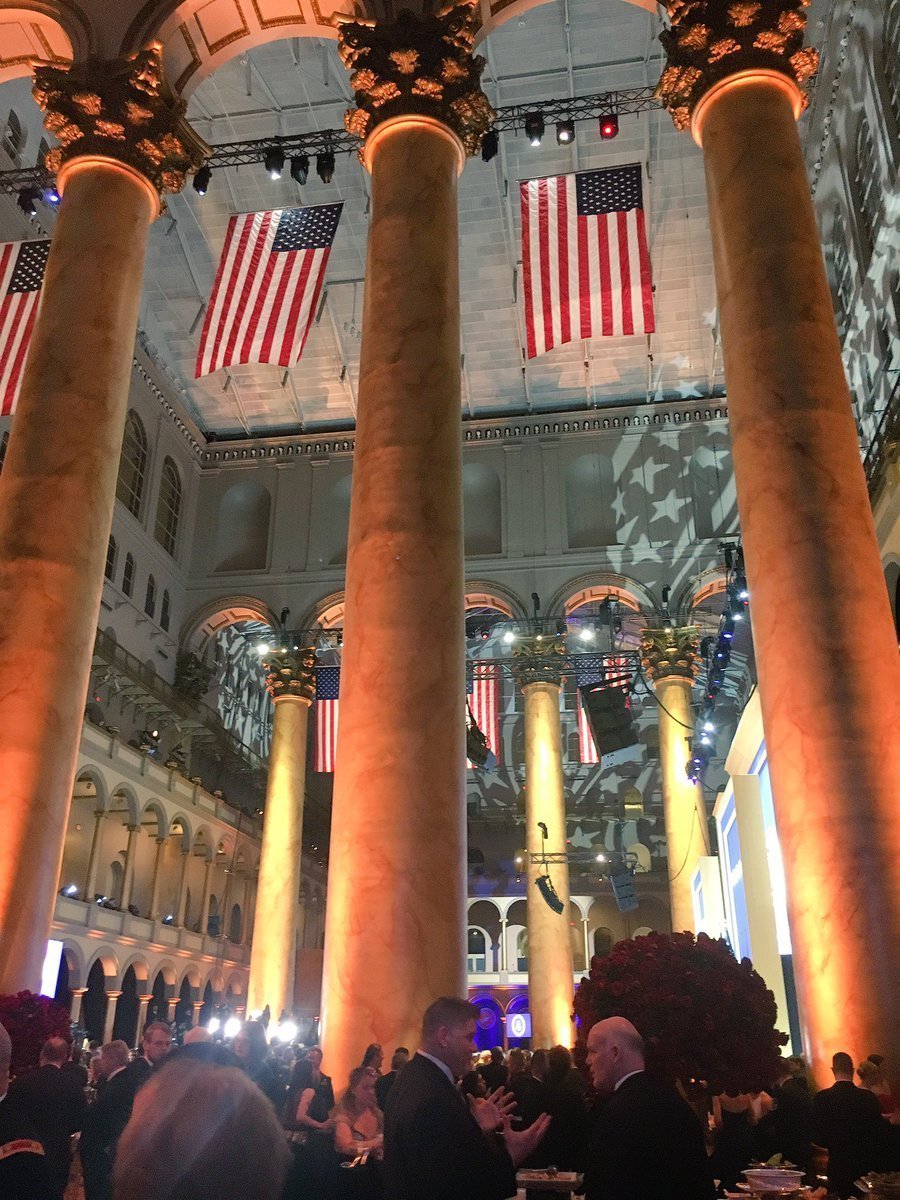 Trump is also
Katie Rogers

Trump is also
@katierogers
This black-tie affair was the harder ticket to get, and about half of the guests here are members of the military in full dress.
Unlike the last one, this ball is open bar.
There is no music right now and the crowd is lingering to hear Mr. Trump speak.
The new commander-in-chief
11:15 p.m.: Arriving at around 11, Mr. Trump greeted supporters at the armed services ball by praising law enforcement and the military.
"I like you for a lot of reasons. Also I like the fact that you all voted for me," Mr. Trump told the crowd. They laughed and cheered.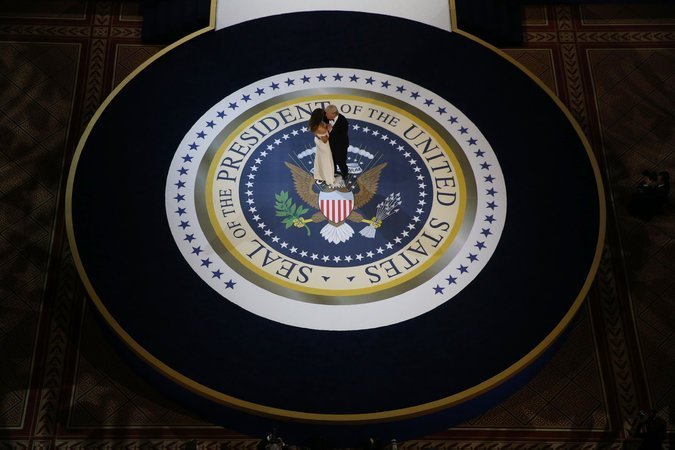 The first couple dancing at the Salute to Our Armed Services Ball.
Chang W. Lee/The New York Times
A live feed of troops in Afghanistan was projected on the screen. "How is it over there? How's it going?" asked the new commander-in-chief.
"I like them much better than I like the media," he said of the troops. "These are much nicer people, finer people."
"Don't be like these people — don't be too tough on me," Mr. Trump told them, gesturing toward the news media corralled in the stands.
(This reporter somehow managed to skirt the entrance and found a spot somewhere near the open bar.)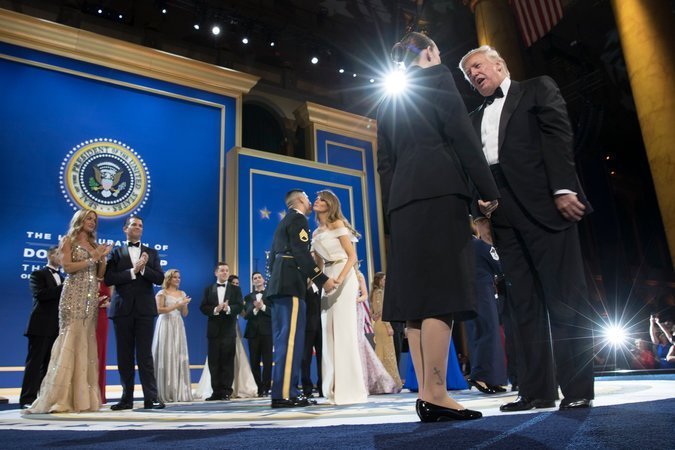 President Trump and Melania Trump speaking with members of the military at the National Building Museum.
Stephen Crowley/The New York Times
Mrs. Trump then spoke publicly for the first time on Inauguration Day.
"Thank you all for your service," she told the attendees. "I'm honored to be your first lady. We will fight, we will win, we will make America great again."
The couple chose a different song to dance to this time, a cover of "I Will Always Love You."
Signing off
11:22 p.m.: After dancing alongside each other for the third time tonight, the president and vice president together used a saber to cut through a giant red, white and blue cake.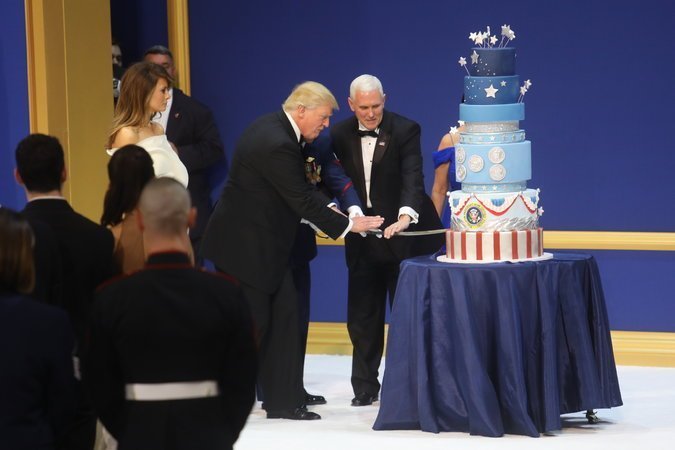 President Trump and Vice President Mike Pence cutting a cake at the Salute to Our Armed Services Ball.
Credit Chang W. Lee/The New York Times
And with that, it's time to sign off. Thanks for trailing along tonight. The next stop for me is covering the Women's March on Washington, where I will be wearing flats.
first image: President Donald Trump speaks at the inaugural ball with First Lady Melania Trump on January 20, 2017.
source: http://www.foxcarolina.com/story/34311970/trumps-fashion-on-display-at-inaugural-ball
---
Country:

United States

City or town:

Washington, DC

Time:

Fri Jan 20, 2017 6:00 pm

More works by Katie Rogers